Air-Purifying Respirators Explained
Types of Air-Purifying Respirators
The first step in selecting a respirator that best suits your needs is determining whether you prefer a disposable or reusable unit. Disposable respirators, more commonly referred to as particulate respirators or dust masks, are sold in the half-face variety and are typically used for protection against airborne particles. Reusable respirators, on the other hand, are available in both the half-face and full-face variety and can offer protection not only against airborne particulates, but gases, fumes and vapors as well. For most reusable respirators, you will need to purchase cartridges or filters to attach to the facepiece. The type of cartridges or filters you will need to purchase is dependent on the level of protection you desire.
Disposable Air-Purifying Respirators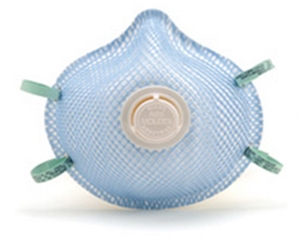 Particulate respirators are designed to prevent the inhalation of airborne particles commonly associated with environments where grinding, sanding, sweeping and other dusty operations occur. To make it easier to classify particulate respirators, in 1995, The National Institute for Occupational Safety and Health(NIOSH) released a testing certification for particulate respirators with the intention of creating a standard that respirator users could understand and follow in practice. More specifically, the 42 CRF Part 84 grouped particulate respirators into three distinct groups: N-Series, R-Series and P-Series. Each of these three groups, in turn, have three different efficiency possibilities: 95, 99 and 100.
N-Series (N95, N99 and N100)
N-Series particulate respirators are NOT resistant to oil and therefore provide protection against solid and liquid aerosol particulates that do NOT contain oil. Examples of common non-oil based solid particulates include "dust" particles related to coal, iron ore, flour, metal, wood and pollen and non-oil based liquids. The difference between an N95, N99 and N100 respirator is simply the filter's efficiency level (i.e. N95 = NOT Resistant to solids and liquids which contain oil and provides 95% efficiency). The higher the efficiency, the more particulates the respirator will filter out. Of these three efficiency levels, the N95 is the commonly used. It is important to note that N-Series respirators have a non-specific service life, and can be used as long as the mask is not damaged or breathing resistances are not detected.
R-Series (R95)
Unlike the N-Series, the R-Series particulate respirators are resistant to oil, which means they provide protection against both solid and liquid aerosol particulates that may contain oil. R-series respirators, however, are only certified for up to 8 hours of service life. Due to these specific service life restrictions, R-Series particulate respirators are the least common type of particulate respirators.
P-Series (P95 & P100)
P-Series particulate respirators are similar to the R-series in that they provide protection against both solid and liquid aerosol particulates that may contain oil. The service life of P-Series particulate respirators, however, is substantially longer, with NIOSH recommended disposal after 40 hours or 30 days of use, whichever comes first. This extended service life is contingent on the mask being undamaged with no detectable breathing resistances.
Reusable Respirators
Reusable respirators are ideal for workers who may be exposed to multiple elements, as they have capability to protect the wearer from more than just particulate matter, if needed. As mentioned previously, there are two different types of reusable respirators available: half-face or full-face . Depending on the wearer's level of exposure and/or comfort level, one may find one piece more preferable to the other. Regardless of the type of facepiece, every reusable respirator requires the attachment of two of the following: gas & vapor cartridges, combination cartridges, filters and/or pre-filters. Keep in mind, you must purchase a mask and cartridge by the same manufacturer. For instance, a 3M half-face/full-facewill only function properly if used in tandem with 3M cartridges.

Gas & Vapor Cartridges
When you find yourself exposed to gases and vapors, there are a variety of cartridge options available. For example, if you want to protect yourself from an organic vapor such as acetone, you would need to wear either a half-face or full-face respirator in combination with two organic vapor cartridges(one for each side of the mask) like the 3M 6001 Organic Vapor Cartridge. Essentially, your selection of the appropriate respirator cartridge will depend on the gas or vapor that is present. Note, all cartridges are sold in 2-packs to make this easier for you!
Combination Cartridges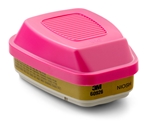 Sometimes, gases and vapors aren't the only elements you want to protect yourself against. For these instances, there is a separate category of cartridges designed to provide users with both gas/vapor and particulates protection in a cartridge. For example, if you wanted to protect yourself from formaldehyde and residual airborne particulate matter, the most appropriate choice would be the 3M 60925 Formaldehyde & P100 Cartridge. Most respirator manufacturers, including 3M, North and MSA, offer such combination cartridges, and once again all cartridges are sold in 2-packs.
Respirator Filters
While respirator filters do not provide OSHA approved levels of gas or vapor protection from a variety of elements like cartridges will, they do provide protection from airborne particles much like disposable particulate respirators and they are typically less bulky when attached to a respirator facepiece. These types of filters are commonly referred to as "pancake filters" because of their flat, circular shape. The efficiency guidelines that apply to disposable particulate respirators similarly apply to pancake filters (i.e. N95, P100, etc.). If there is some form of gas and vapor protection, it is only nuisance levels meaning concentrations not exceeding OSHA PEL or other applicable government occupational exposure limits, whichever is lower. Please note that some manufacturers do create cartridges that are specific to P100 filters (i.e. MSA Advantage® Low-Profile P100 Cartridge ), but these will always be categorized as standard filters on our website.
Respirator Pre-Filters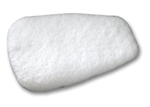 When heavy particulate filtration is required, users may consider using a standard gas/vapor respirator cartridge in combination with a respirator pre-filter, as opposed to the combination cartridge described previously. Examples of a respirator pre-filter include the 3M 5P71 P95 Respirator Filters and 3M 501 Filter Retainer. This configuration allows the wearer to replace the particulate filter as frequently as needed without having to also replace the gas and vapor cartridge. This configuration is commonly used in applications involving spray paint or pesticides. If you are looking to use ONLY a pre-filter you are able to do so, however, you must purchase the 3M 501 Filter Retainer and the 3M 502 Filter Adapter.
Respirator Kits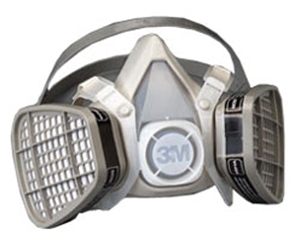 If you prefer to purchase something already put together for you, you might consider purchasing a pre-assembled respirator kit. Keep in mind that most of these kits may seem reusable, but the cartridges included are permanently attached to the facepiece and cannot be removed. Once the cartridges can no longer properly filter the elements, the entire kit needs to be replaced. Replacing the entire kit ensures you are receiving the proper cartridges/filters all at once in accordance with OSHA requirements.
Respirator Ratings
As previously mentioned, NIOSH has a lot to say about respirators. In association with the Centers for Disease Control and Prevention (CDC), NIOSH is dedicated to improving workplace safety, which includes the safe practices of respirator usage. While NIOSH policies and procedures can be quite in-depth, know that all of the respirators on our website are NIOSH approved to protect you. While our staff is trained to help you determine which respirator/cartridge/filter may work best for you, we can nevermake official product recommends due to the uncertainty of your specific working environment and which kind of chemicals/vapors/particulates it may contain. To best serve you, please provide us with what chemicals/vapors/particulates you need to protect yourself from and we will certainly guide you in the right direction.
Hopefully this breakdown of air-purifying respirators was helpful and did not make your head spin. If that happen to be the case, please feel free to call our customer service for additional guidance regarding what you may need to protect yourself properly—1-800-724-2596.